CONNECTICUT BAR FOUNDATION and CONNECTICUT BAR ASSOCIATION
are honored to present the
Constance Baker Motley Speaker Series on Racial Inequality
An ongoing forum for the Connecticut legal community to explore issues of racial inequality and systemic racism.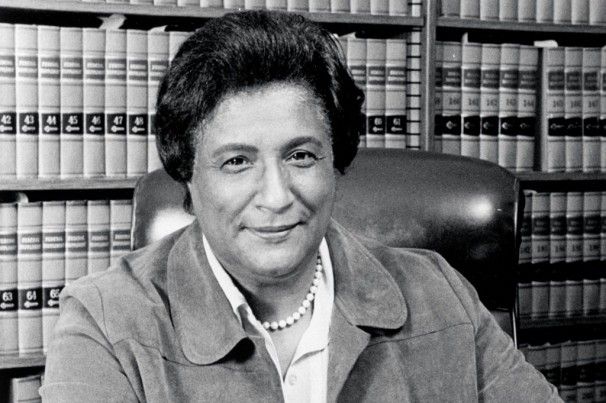 This series is named in honor of civil rights trailblazer Judge Constance Baker Motley
with the goal of supporting and fostering renewed commitment to advancing civil rights and social justice.
Upcoming Events
Structural Racism and Financial Services
March 18, 2021, 3:00 PM to 4:30 PM (Eastern Daylight Time)
Rescheduled from November 12, 2020, 3:30 PM to 5:00 PM (Eastern Standard Time)
This panel will feature legal scholars and experts who study historical and ongoing inequities in our banking system and financial services more broadly, and/or who are actively engaged in working to address those inequities through policy activism and innovation within the industry.
---
Past Events
Language and the Law
February 5, 2021, 1:00 PM to 2:30 PM (Eastern Standard Time)
This webinar will focus on the impact of language in the legal profession, particularly how diverse languages, accents, dialects and proficiency levels of parties, witnesses, lawyers and jurors impact legal professionals' perceptions of their legitimacy, credibility and professionalism.
Policing and Race in America: Past, Present, and Future – Part 2 
January 21, 2021, 1:00 PM to 3:00 PM (Eastern Standard Time)
This session will focus on biases in policing and the impact on communities, mainly communities of color. Panelists will provide insight into strategies and changes some police departments have implemented to mitigate bias and improve community relations.
Tiheba Bain

Founder, Women Against Mass Incarceration, Bridgeport

Project Manager, Institute for Municipal and Regional Policy at Central Connecticut State University, New Britain

Warren E. Hardy

Founder, Helping Young People Evolve (H.Y.P.E.), Hartford

Moderator: Charles Grady

Community Outreach Specialist, Federal Bureau of Investigation, New Haven

Structural Racism in Employment
December 16, 2020, 3:30 PM to 5:00 PM (Eastern Standard Time)
This panel will feature scholars and/or advocates who will show how structural racism operates to the disadvantage of domestic workers, immigrant workers, and workers entangled in the criminal justice system, among others, and what it would take to combat that structural racism.
Policing and Race in America: Past, Present, and Future - Part 1
December 3, 2020 1:00 PM to 3:00 PM (Eastern Standard Time)
How did policing start and evolve in America and what is the role that race has played in the formation and development of police departments and policing? Learn about the history of policing and join our panel to discuss the current role of race in how departments police their communities.
Richard J. Colangelo, Jr.

Chief State's Attorney State of Connecticut, Hartford

Christine P. Rapillo

Connecticut Office of Chief Public Defender, Hartford

Vernon L. Riddick, Jr.

West Hartford Police Department, West Hartford
Equity Through Zoning Reform in Connecticut
October 16, 2020,12:00 PM to 1:30 PM (Eastern Daylight Time)
This program will feature land use attorneys, including two law professors, discussing how the structure of land use decision-making in Connecticut can impede policies and decisions that promote racial and economic equity, with a focus on several types of exclusionary zoning regulations; and current efforts to revise state zoning laws to promote desegregation.
How the Law Structures Educational Inequities
September 24, 2020, 3:30 PM to 5:00 PM (Eastern Daylight Time)
This panel will feature legal and education scholars who study inequities in primary and secondary educational systems, how school districts are organized and funded, and how inequities manifest in differential school funding, resources, and outcomes.
Systemic Racism, Voting Rights, and American Democracy
August 25, 2020, 5:00 PM to 6:30 PM (Eastern Daylight Time)
This 90-minute seminar draws on the experiences of legal academics, elected officials, and political observers to explain how certain fundamentals of our democracy are used to disenfranchise citizens – limiting who has political power, who exercises the right to vote, and who has a voice in our government institutions – on the basis of race. The seminar will explore the systems that perpetuate racial inequality in voting rights and political access: the history and dangerous effects of "gerrymandering"; the dismantling of the Voting Rights Act of 1965, which was enacted to help achieve racial equality and representation; and how voter restriction and intimidation efforts accomplish racial disparities in the exercise of voting rights. The programming will look at historical patterns and trends, and how systemic racism impacts voting rights and political access on the national stage and in Connecticut.
Segregated Communities and Opportunity
August 12, 2020, 2:00 - 3:30pm
This 90-minute seminar uses maps, original photographs, and oral histories to explain how 100 years of discriminatory land use and development policy built and maintains our segregated state. The seminar will also examine the lasting effect these policies have on housing choice and the lives of people of color, particularly lower income Black and Latino families, who have few options to move to areas with high performing schools and safe neighborhoods. The programming is Connecticut-specific and demonstrates how national level policy and funding continue to influence local development and the lives of Connecticut residents.
Lonnie Braxton II

National Association for the Advancement of Colored People, Norwich

Pastor AJ Johnson

Center for Leadership and Justice; Urban Hope Refuge Church, Hartford

Sophia Lopez

Trinity College, Hartford
A Virtual Conversation on Racial Injustice with Chief Justice Richard Robinson and Justice Maria Kahn
July 15, 2020
This is the inaugural event of the Constance Baker Motley Speaker Series on Racial Inequality, an ongoing forum for the Connecticut legal community to explore issues of racial inequality and systemic racism. This virtual event features Chief Justice Richard A. Robinson and Justice Maria A. Kahn and was moderated by Dean Timothy Fisher of UConn School of Law and Professor Marilyn Ford of Quinnipiac University School of Law.
---
About Constance Baker Motley
Constance Baker Motley (1921-2005)
Born and raised in New Haven, Connecticut, Judge Motley was recognized by Resolution of the United States House of Representatives of the 110th Congress in 2007 for her "lifelong commitment to the advancement of civil rights and social justice."
Motley was the first female staff attorney at the NAACP Legal Defense and Education Fund (LDF), hired by then Chief Counsel Thurgood Marshall. She argued and won many of the defining cases in the civil rights movement, including those to desegregate schools and universities, housing, transportation, and public accommodations. Motley later became the first Black woman appointed as a federal judge, rising to Chief Judge of the United States District Court for the Southern District of New York in 1982.