Hon. Michael L. Ferguson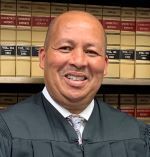 Michael L. Ferguson is the Chief Family Support Magistrate for the State of Connecticut.  Chief Ferguson was appointed by Connecticut's Governor Dannel P. Malloy in 2011 to serve as a Family Support Magistrate.  In 2018, Honorable Patrick L. Carroll III, Chief Court Administrator, designated him Chief Family Support Magistrate.  Chief Ferguson is a graduate of Central Connecticut State University and The University of Connecticut School of Law class of 1998.
Prior to joining the bench, he was an attorney at both a large and small law firm, before eventually starting his own law practice focusing on family, criminal defense, personal injury, real estate, and business law.   He served clients throughout Connecticut but primarily in the greater Waterbury area.  Chief Ferguson was born and raised in Waterbury, Connecticut. 
Chief Ferguson is a member of the Connecticut Fatherhood Initiative Council, Partner's executive Council, Child Support Guidelines Commission, Judicial Review Council, (alternative member), NAACP, and Kellogg Lodge No. 5.  Additionally, Chief Ferguson's community involvements have included being a former member of the Waterbury Foundation, and Goodwill Elks Lodge, former board member/board of directors for Waterbury Youth Services, Family Services of Greater Waterbury, Masonicare Visiting Nurses Association, Community School, Greater Waterbury Chamber of Commerce, and Waterbury Hospital.