Elizabeth Conklin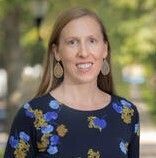 Elizabeth Conklin, J.D., joined Yale University in the inaugural role of associate vice
president for Institutional Equity, Accessibility, and Belonging in September 2020. In
this role, she works closely with other leaders across the university to support
institutional equity and accessibility, and to guide strategy and initiatives that create a
culture of belonging. Elizabeth oversees the Office of Institutional Equity and Access
(OIEA), Student Accessibility Services (SAS), and the Office of LGBTQ Resources.
Since January 2022, Elizabeth also serves as the University Title IX Coordinator and
oversees the Title IX Office, providing leadership and oversight for Yale's Title IX
programs and staff. Elizabeth's work focuses on ensuring appropriate response to
incidents of discrimination and harassment as well as training for university community
members on responding to discrimination and harassment and creating a culture that
prevents such behaviors.
Prior to joining Yale, Elizabeth worked at UConn for ten years, including serving for nearly nine years as Associate Vice President for the Office of Institutional Equity, Title IX Coordinator and ADA Coordinator. Before her time in higher education administration, Elizabeth was an associate attorney with a midsize Hartford law firm practicing labor and employment law.