11th John A. Speziale Alternative Dispute Resolution Symposium
"Reimagining Dispute Resolution of Family Matters in Connecticut"
co-sponsored by Quinnipiac University School of Law
Wednesday, November 13, 2019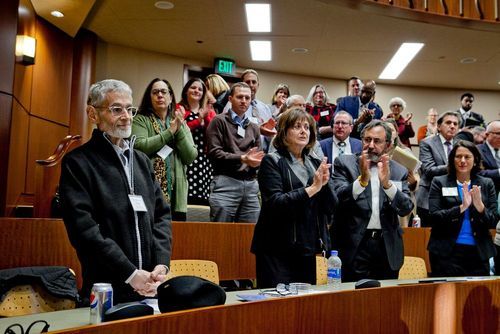 Since 1998, the Connecticut Bar Foundation has sponsored ten symposia focusing on alternative dispute resolution (ADR), all of which have been hosted by Quinnipiac University School of Law. The symposia are named for former Connecticut Supreme Court Justice John A. Speziale, in recognition of his work in the field and his leadership as the first Chair of the James Cooper Fellows.
This Eleventh Speziale Symposium, focusing on the role of family ADR in Connecticut and co-chaired by long time ADR advocates Frances Z. Calafiore and Charlie Pillsbury, will be held at Quinnipiac University's North Haven campus.  The symposium topic is especially timely, as family law, courts and the role of the helping professions are changing rapidly across the country and around the globe.
Divorcing families are confronted by a myriad of dispute resolution processes, among them litigation, mediation, collaborative law, arbitration and other hybrid interventions.  The past several decades have brought extraordinary changes to family law and in particular, have increased the growth of the non-adversarial alternatives.  Positive and creative innovations, interdisciplinary approaches, expansions of social science data, an increasing focus on child well-being, and the explosion of self-represented parties have pushed family justice professionals to seek better ways to work with families. And yet, the stress of economics and other hard realities -- for families, professionals, and court systems -- remain and create tensions and lost opportunities.  We face new challenges and, perhaps, new ethical responsibilities in this field, as we search to better serve families in distress as they reorganize themselves after separation and/or divorce.
We aspire for this symposium to be a gathering of professionals from all relevant disciplines, both novice and experienced, to come together to take a hard look at our field – to celebrate how far we have come; to identify why we are not farther along; and to plan for moving forward.
Our keynote speakers are:
Robert E. Emery, Ph.D., Professor of Psychology and Director of the Center on Children, Families and the Law at University of Virginia. Dr. Emery is a mediator, researcher, and the author of many articles and books, including "The Truth About Children and Divorce," 2006 and "Two Homes, One Childhood," Avery, 2016.
Peter Salem, M.A., Executive Director since 2002 of the Association of Family and Conciliation Courts, the premier international, interdisciplinary association of professionals dedicated to the resolution of family conflict. Mr. Salem has been advising family courts and professionals since 1990, and has been an author, mediator and trainer for decades.
Marsha Kline Pruett, M.S., Ph.D., M.S.L., Associate Dean of Academic Affairs at the Smith College School of Social Work, immediate past-president of the board of AFCC and renowned researcher and author in the area of family policy, will moderate our final panel.
Our presenters and symposium panelists include:
Hon. Elizabeth A. Bozzuto, Deputy Chief Court Administrator
Hon. Michael A. Albis, Chief Administrative Judge for Family Division
Hon. Gerard Adelman, Judge for Regional Family Trial Docket
Joseph DiTunno, Deputy Director of Juvenile and Family Services, CSSD
Frances Z. Calafiore, JD, Law Office of Frances Z. Calafiore
Brendan Holt, JD, Holt Law, LLC
Deborah Noonan, JD, Law Office of Deborah Noonan
Jennifer Luise Champagne, M.A., LPC
Wendy Habelow, Ph.D., Beacon Behavioral Services, LLC
Beth Karassik, Ph.D., Comprehensive Neuropsychological Services, P.C.
Lisa Gresham, CDFA, Equitable Divorce Solutions, LLC