Judicial Branch Grants-in-Aid
In 2005, the Connecticut General Assembly approved the initial funding in the Judicial Branch budget for legal services organizations. Since then, funds have been distributed to the Foundation, which administers the program, and grants have been awarded proportionately to the current IOLTA/IOTA grantees that provide civil legal representation to poor people in Connecticut.
---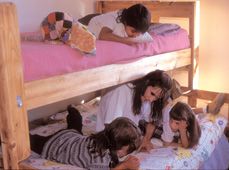 "The Connecticut Bar Foundation Judicial Branch Grant-in-Aid makes it possible for the Children's Law Center to continue and expand its work – helping to protect children from the harm of prolonged custody disputes."
- Justine Rakich-Kelly, Executive Director, The Children's Law Center of Connecticut