2021 Virtual Reception & Annual Fellows Meeting
Click on the program image above to view the 2021 Virtual Reception & Annual Meeting Program and Materials.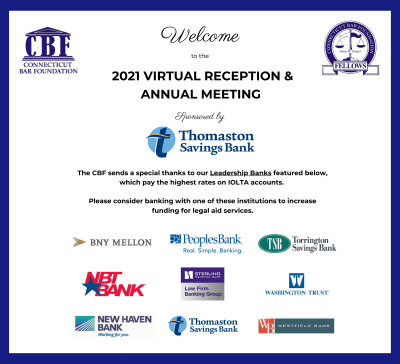 KEYNOTE
Professor Jamila Michener
Associate Professor in Government, Cornell University
Co-Director, Cornell Center for Health Equity
Author of Fragmented Democracy: Medicaid, Federalism, and Unequal Politics
Cambridge University Press, 2018
FOLLOWED BY Q&A WITH: ANIKA SINGH LEMAR CLINICAL PROFESSOR, YALE LAW SCHOOL
AWARDS
 SPECIAL RECOGNITION AWARD
Ralph Monaco
The Connecticut Bar Foundation Special Recognition Award is presented to a person who has provided years of vision, leadership and outstanding service to the Connecticut Bar Foundation.
DISTINGUISHED SERVICE AWARD
Staff and Judges of the Connecticut Judicial Branch
The Connecticut Bar Foundation Distinguished Service Award is presented to a person who has shown outstanding and distinguished service to the bench, bar, the community, the public, and exhibits an effort to improve the legal system.
 ANTHONY M. FITZGERALD AWARD FOR EXCELLENCE 
New Haven Legal Assistance Association
The Anthony M. Fitzgerald Award for Excellence honors legal service providers and attorneys who demonstrate a commitment to the provision of zealous and skilled legal representation to low-income clients, including direct client or other activities that ensure that Connecticut citizens have legal representation when facing significant civil legal concerns affecting their safety, health, shelter, and survival. Other activities may include implementing a new legal service program, project, or service that expands access to civil legal representation for people of low income in Connecticut.