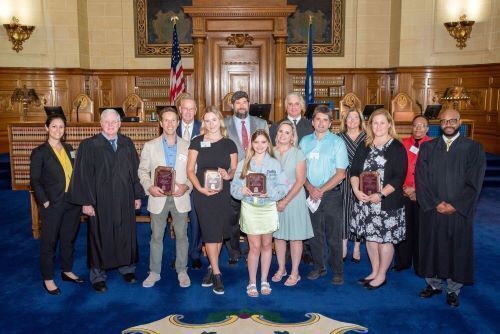 Welcome to the 2022-2023 Essay Contest! 
The contest is open to all Connecticut students under the age of 21 who are enrolled in grades 9-12, or their equivalent, at an accredited high school, vocational-technical school or adult high school credit diploma program (collectively "schools") located within the State of Connecticut ("Connecticut school").  The contest is also open to all Connecticut homeschooled students in grades equivalent to grades 9-12.
We are no longer accepting submissions for this year's contest - thank you to all the students who participated!  Winners will be notified in May 2023.
Please be sure to review all of the contest rules, including those found at the submission link below. 
Students should be mindful of the contest topic, and should review the full fact pattern carefully;
essays not responsive to the topic will be disqualified.
---
Prizes
Winner: $2,000
(2) Runner-Up: $1,000 each
Essay Topic
"Out with the Books"
Click here for a detailed description of this year's topic and fact pattern.
 
Contest Materials
Essay submissions are judged on content/originality, organization, use of resource materials, and writing.  The Connecticut Bar Foundation and the James W. Cooper Fellows do not represent or endorse the accuracy or the reliability of any of the information, content, sources, or statements contained in any student essay contest entry in the Connecticut Bar Foundation James W. Cooper Fellows Quintin Johnstone Statewide High School Essay Contest.
About the Essay Contest
Now in its 23rd year, the Essay Contest was started by the Foundation's James W. Cooper Fellows in 2000.  The purpose of the essay contest is to get young people in Connecticut thinking about and exploring legal issues relevant to them.
In 2011, the Essay Contest was named after Quintin Johnstone, who was a professor at Yale Law School before his death in 2014.  Johnstone served as past president of the Connecticut Bar Foundation, participated in a variety of Fellows projects for many years, and was a longtime member of the Fellows Education and Program Committee, which helps to organize Fellows projects like the annual Essay Contest.
Last year's contest generated 145 entries from 46 schools across Connecticut.  The Foundation thanks the student essayists, and the schools and teachers who supported them, for their participation.
We also wish to thank the Connecticut Supreme Court for their continued support of the Essay Contest, and for welcoming us back to the court on June 8, 2022 for our first in-person awards ceremony since 2019.
Finally, we want to thank the over 140 attorneys and judges from across the state who reviewed and scored the essays last year. Justices and judges who participated in the final round of judging for the 2021-2022 contest were: Justice Raheem Mullins, Justice Maria Araujo Kahn, Justice Richard Palmer, Judge Alexandra DiPentima, and Judge Ingrid Moll.
Click here to view a complete list of the 2021-2022 Essay Contest Judges