Keighly Rector, Esq.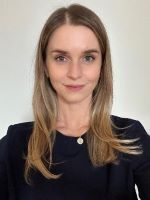 Keighly Rector, Esq. is a supervising attorney with Catholic Charities Community Services, Archdiocese of New York (CCCS), where she mentors pro bono attorneys, supervises in-house staff, and represents clients in a range of immigration matters. In addition to her role at CCCS, Keighly also sits on the Executive Committee for the Connecticut Chapter of AILA (American Immigration Lawyers Association) and serves as the Attorney Wellbeing Chapter Liaison, serves on the Advisory Board for Quinnipiac University's Legal Studies Program, and regularly guest lectures at Quinnipiac University School of Law on trauma-informed lawyering and immigration law. Keighly has been practicing law for over eight years, advocating for vulnerable populations, including immigrants, crime victims, survivors of intimate partner violence, and abused and neglected children. Utilizing tenants of trauma-informed care, Keighly takes a client-centered approach to direct representation that promotes collaboration, empowerment, and holistic responses to the complex needs of survivors.
Keighly graduated magna cum laude from Quinnipiac University in 2011 with a B.A. in Legal Studies and Spanish. She obtained her J.D. from the Elizabeth Haub School of Law at Pace University in 2014, cum laude. Keighly is admitted in both New York and Connecticut.