Danielle Robinson Briand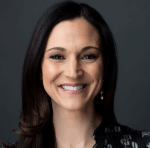 Danielle Robinson Briand, Esq. studied socio-cultural anthropology at Yale University (B.A. with Distinction) and the University of Oregon (M.A.). Her Master's thesis, "Border Stories: The Memories, Moralities and Human Rights of Undocumented Mexican Migrants," was inspired by her experience living in El Paso, Texas at Annunciation House, an emergency shelter for migrants. In 2010, Danielle received a J.D. from Quinnipiac University School of Law, where she was a Dean's Fellow. At QUSL, Danielle co-founded the International Human Rights Law Society and the Nicaragua Law & Service Project. Upon graduation, she was awarded the National Association of Women Lawyer's Award for her work advancing women's issues as a law student.
Throughout her legal career, Danielle has been dedicated to working with trauma survivors and finds deep inspiration in their resilience. Danielle's case work concentrates on gang and gender-based asylum claims, U and T Visas for victims of violent crimes and trafficking, protections for domestic violence victims under the Violence Against Women Act and deportation defense. Danielle brings a feminist and antiracist philosophy to her legal work and is committed to disrupting and dismantling systems of oppression, particularly the deportation pipeline.
Danielle is admitted to practice in New York and Connecticut, as well as the Second and Eighth Circuit Courts of Appeal. She is a member of the American Immigration Lawyers Association, NIPNLG (National Immigration Project of the National Lawyers Guild) and ASISTA (Advanced Special Immigrant Survivors Technical Assistance). In 2014, Danielle was honored by the Connecticut Women's Education and Legal Fund as one of the "40 Women for the Next 40 Years."
In her spare time, Danielle serves on the Board of the Latino Youth Development Collaborative, she practices yoga, plays classical piano, travels widely, and explores different cultures through food, art and conversations. She loves watching her son Connor play hockey, reading mysteries with her daughter Sydney and planning the next family trip with her husband Jean.