Daniel Werner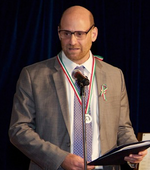 Dan Werner is a bilingual (Spanish/English) lawyer with 23 years' experience advocating for workers and victims of egregious civil rights abuses. Dan began his career as an attorney representing farmworkers who toiled in orange groves, onion fields and apple orchards. He filed litigation, including several large class actions, against the agricultural employers who routinely underpaid and exploited his clients. Dan developed his cases through community legal education, outreach visits to rural labor camps, in-depth research, and considering all potential legal claims, including novel legal theories. His zealous representation resulted in dozens of damages awards and settlements benefitting thousands of migrant workers in Florida and New York. He also represented immigrant clients in civil rights litigation, including a precedent-setting case the Third Circuit U.S. Court of Appeals called "a paradigmatic case of racial profiling."
Dan went on to receive a prestigious Echoing Green Fellowship and co-founded the non-profit Workers' Rights Law Center of New York. There, he continued to defend the labor and civil rights of exploited immigrant workers and day-laborers. Among his many ground-breaking cases, he successfully led the first-ever lawsuit for labor trafficking survivors under newly-enacted federal anti-trafficking protections. Through that case and others that followed, Dan developed important legal precedent and became a sought-after expert on civil litigation for trafficking survivors, publishing on the subject and lecturing in the United States and internationally. He also was a founding Board member of the non-profit Freedom Network USA, the preeminent human trafficking survivor advocacy organization.
In 2008, Dan joined the Southern Poverty Law Center (SPLC) where he litigated complex workers' rights and civil rights cases, built and led diverse teams, thought creatively about how to effectively serve immigrants in the South, and designed programming to win justice for the most isolated and deserving. For example, he spearheaded a seven-year labor trafficking lawsuit against a Mississippi-based shipyard operator on behalf of hundreds of pipefitters and welders recruited from India to help repair Gulf Coast oil rigs damaged during hurricanes Katrina and Rita. The workers paid up to $25,000 for positions based on false promises of green cards. After a six-week jury trial, the first group of five plaintiffs was awarded $14 million in damages. To recognize this groundbreaking win, Dan and his team were named Public Justice Foundation's 2015 Trial Lawyers of the Year. Most recently, Dan pioneered and directed SPLC's Southeast Immigrant Freedom Initiative, an ambitious project aimed at providing high-quality representation to immigrants detained in the Deep South.
In addition to his work for clients, Dan has extensive experience with international consulting and policy advocacy. For example, as a volunteer with the American Bar Association's Rule of Law Initiative, Dan advised and trained local governments and community leaders in Mongolia, China, and the Solomon Islands to develop a legal framework for combatting human trafficking and achieving justice for survivors of forced labor. He has testified about migrant labor exploitation in front of the Organization for Security and Cooperation in Europe, and he traveled to the Russian Federation with representatives of the Obama Administration as part of a Bilateral Presidential Commission addressing forced labor and migration issues.
Dan received his law degree from the State University of New York at Buffalo School of Law in 1996. He graduated from Grinnell College with a Bachelor of Arts in Anthropology and Spanish in 1991 and was conferred with an Honorary Doctor of Laws in 2017. Dan is currently licensed to practice law in Georgia and New York. In his free time, Dan enjoys photography, caving, bread-making, and running. He is proud to have finished three marathons, seven half-marathons, and an Ironman 70.3 triathlon.