Beverly Streit-Kefalas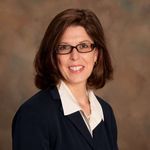 Hon. Beverly K. Streit-Kefalas is the Probate Court Administrator for the Connecticut Probate Courts and the judge of probate for the Milford-Orange Probate Court located in Milford, Connecticut, serving the Milford and Orange.
Judge Streit-Kefalas, known as Judge Beverly, has served as a judge of probate since January 1999. In September 2019, the Honorable Richard A. Robinson, Chief Justice of the Connecticut Supreme Court appointed her to serve as Probate Court Administrator. As administrator, she is responsible for the efficient operation of the 54 local Probate Courts and six Regional Children's Probate Courts, administering and enforcing probate regulations, and development of training for court staff and continuing education for the Probate Judges, amongst other duties.

She is a 1985 graduate of Smith College with a bachelor's degree in Economics and earned her J.D. from the University of Connecticut School of Law in 1990. An active member and past President of the Connecticut Probate Assembly, she was appointed as the Administrative Judge of the New Haven Regional Children's Probate Court in 2018. She is also a founding judge of the New Haven Regional Children's Probate Court which first opened as a pilot court in 2004, was recognized nationally as a model court system, and has since expanded to five additional regional children's courts across the state. She served as the Temporary Administrative Judge to establish the New London and the Central Connecticut (formerly the Meriden/Wallingford) Regional Children's Probate Courts.

She is an originating member of the Probate Court Rules of Procedure Advisory Committee and past Subcommittee Chair. As a young attorney, she served as co-chair of the Connecticut Bar Association Young Lawyer's Public Service Committee and was regularly recognized by the U.S. Bankruptcy Court District of Connecticut for her service as a pro bono attorney. In her local community, she has been an active board member of many local service and non-profit organizations including Devon Rotary, Bridges Healthcare, Inc., the local mental health agency, the Milford Senior Center's Council on Aging and The Boys and Girls Club of Milford.