Sheila N. Hayre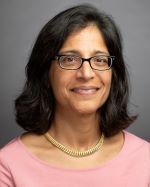 Sheila is a Visiting Associate Professor and the Waring and Carmen Partridge Faculty Fellow.  She joined the faculty at Quinnipiac University School of Law in the fall of 2016 and teaches immigration law and Introduction to Representing Clients.  In the Civil Justice Clinic, she supervises students as they represent low-income clients in need of immigration assistance, including asylum seekers, unaccompanied minors, and undocumented victims of domestic violence and other serious crimes such as trafficking.  Sheila is also the faculty advisor for the International Human Rights Society and for the Human Trafficking Prevention Project, a program that she helped to create in which law students train employees in the hospitality industry and other "frontline" industries on how to recognize and respond to signs of human trafficking.  As an educator, Sheila embraces experiential methodologies that bring her students into contact with real-world problems and, often, real clients.
Sheila received an A.B. in psychology and an A.M. in anthropology from Stanford University.  After graduating from Yale Law School in 2002, she clerked for the U.S. Court of Appeals for the Second Court and then the U.S. District Court for the District of Connecticut.  For the next ten years, she worked as a staff attorney at New Haven Legal Assistance Association, Inc., where she practiced both family law and immigration law, working primarily with victims of domestic violence and abuse.  From 2013 until 2016, Sheila taught in the Faculty of Law at the National University of Singapore.
Sheila currently chairs the Committee on Human Trafficking for the Connecticut Bar Association; she also serves on the Editorial Board of the Connecticut Law Tribune; the Board of Directors of Connecticut Legal Services, the largest legal aid organization in the state; on the Advisory Board for Quinnipiac's Albert Schweitzer Institute; and on the Grievance Panel for the Judicial District of New Britain and the Judicial District of Hartford (Avon, Bloomfield, Canton, Farmington, and West Hartford).  Sheila serves as a James W. Cooper Fellow of the Connecticut Bar Foundation and as Fellow of the American Bar Foundation.